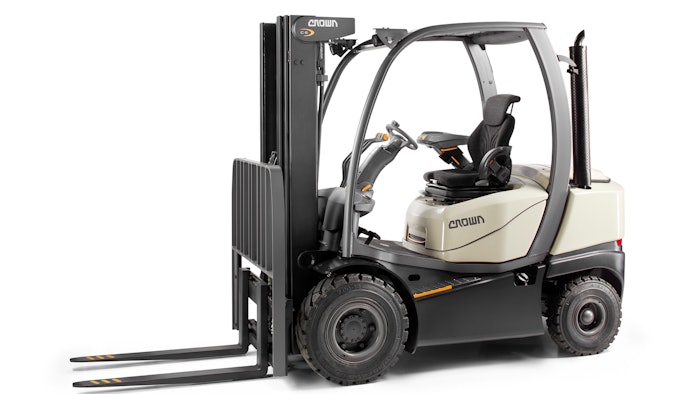 Crown Equipment Corporation (New Bremen, OH) has introduced a diesel option to the groundbreaking Crown C-5 Series. Crown launched the series in 2009 as the company's first internal combustion line of industrial pneumatic and cushion tire forklifts. The new Crown C-5 diesel forklift, available in 5,000- and 6,500-lb. lifting capacities, features a 2.5-liter industrial engine designed for Crown by Kohler. The C-5 Series continues to offer the Crown designed and manufactured industrial LPG engine in 4,000-, 5,000-, 6,000-and 6,500-lb. capacities. Crown backs the primary features of the durable, ruggedly designed and manufactured C-5 Series forklifts with three-year/6,000-hour warranties. The C-5 is available with a variety of ergonomic features for operator comfort, including:
The new optional D4 armrest, which allows easy, comfortable control of hydraulic levers. The armrest can be adjusted, with one hand, to the operator's desired height and arm length.
Comfortable, wide seats, including the Crown FlexSeat®, with a flexible back and replaceable parts; mechanical suspension seat; and a new air-ride suspension seat with heated seat and backrest for optimal comfort.
An optional 10-inch steering wheel with tiller for tight maneuvering and to provide more space for entering and exiting the truck.
www.crown.com; 419-629-2311