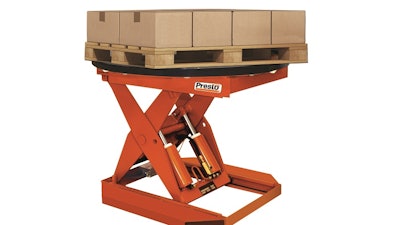 According to Presto ECOA (Norton, MA) the P3 Operator Controlled Load Leveler increases productivity and improves worker safety in manual pallet loading and unloading operations. The unit can be raised or lowered at the touch of button to position the top layer of boxes at the most comfortable, easy-to-access height. It is the ideal load leveler choice when precise load positioning is required or when load weights, pallet sizes or product dimensions vary greatly and frequently.
Two models are available with 2,000 or 4,000 pound capacities.
Both units operate on standard 115V power.
A 1 HP motor operates hydraulic cylinders which raise or lower the platform from a low height of 9-1/2" to 27 ¾".
Lifting and lowering is controlled via a footswitch or hand pendant.
www.prestolits.com
; 800-343-9322