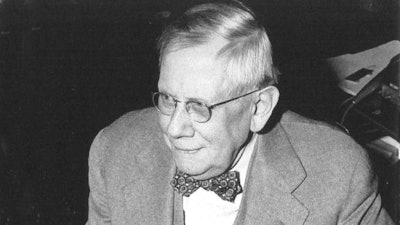 The Mill-Rose Company, the world's largest manufacturer of twisted-wire brushes, is celebrating its 100th anniversary.
It all started in 1919 when Victor H. Miller accepted a contract from a Cleveland manufacturer to make percolator brushes and, from this modest beginning, The Mill-Rose Company was to grow and become the leading manufacturer of brushes used in virtually every industry, including aerospace, agriculture, automotive, defense, energy, manufacturing, medical, technology and telecommunications.
While initial growth was slow, Mill-Rose expanded production significantly with the advent of World War II and by the end of the conflict had produced more than 35 million brushes. With diminished demand for gun-cleaning brushes during the post-war period, Mill-Rose transitioned to manufacture twisted wire brushes for other applications that were primarily industrial.
Since its inception, Mill-Rose focused on manufacturing brushes used in new and unique applications. More and more companies turned to Mill-Rose to manufacture custom-design brushes, which led the company into tremendous diversification.
Mill-Rose is uniquely suited to manufacture brushes as tiny as .014 in diameter. Customers can choose from thousands of standard and not-so-standard sizes and shapes of brushes that debur, polish, finish, sort, auger, conduct, dissipate, collect, move, and protect materials. Mill-Rose brushes are often used in non-brushing applications to solve engineering, design, and production problems. Mill-Rose has designed more than 100,000 special brushes with unique configurations for unique applications.