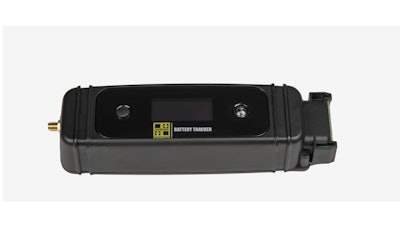 Hyster Battery Tracker from Hyster Company (Cleveland, OH) is a fleet management solution that provides valuable insights to maximize battery performance and life. Utilizing existing wireless networks, Hyster Battery Tracker monitors usage and delivers alerts for potential battery issues through a variety of features, including:
Water Level: Encourages proper watering procedures by reporting electrolytes at high and low levels.
24/7 Monitoring: Utilizes existing wireless networks to transmit data to the cloud-based Hyster Tracker.
Smart Charging: Delivers analytical data such as state of charge, voltage current, and battery temperature to improve battery care and charging behavior.
Warranty Compliance: Stores data for the life of the battery and provides complete history to comply with battery warranty.
Hyster Battery Tracker provides relevant data insights on the general health of a fleet in terms of charge level, event notifications, and calculated asset health metrics, while highlighting potential undesirable treatments of battery assets in relation to charge and discharge characteristics. In addition, Hyster Battery Tracker can help eliminate battery-related equipment downtime, performance setbacks and even operational and safety concerns.