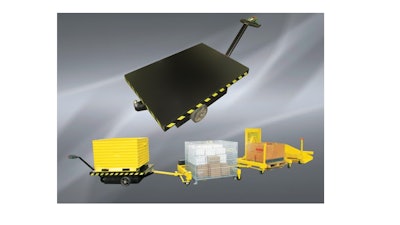 Air Technical Industries (ATI; Mentor, OH) announces the development of an exciting new heavy duty self-propelled platform truck-tug. In addition to carrying heavy loads, it is powerful enough to pull along several trailers or loads simultaneously, saving time by doing it in one trip instead of multiple trips. The propulsion is battery powered 24 volt DC and controls are built-in below the platform which can open at one end for service access. Features include:
Travel speed that is infinitely variable from zero up to 4 mph, and the unit is equipped with automatic braking.

Capacities of 2,000; 4,000; 6,000 and 10,000 lbs, and sizes from 32" to 72" wide and 48" to 120" in length. The platform height is from 14" to 24" high depending on capacity and size required.

An optional lift platform that can be built-in to lift the load to the desired height and is a valuable new feature.

60° steering to each side, allowing for sharp angle turns to operate in narrow aisles or crowded areas.
Ergonomically designed to make the job easier and safer, the new platform truck-tug eliminates the need for pushing and pulling manually.
www.airtechnical.com; 440-951-5191