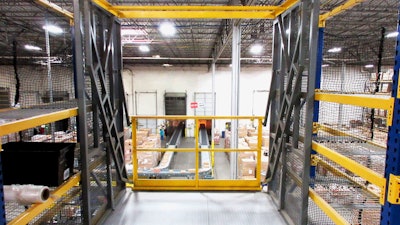 Wildeck, Inc. (Waukesha, WI) introduces the newest addition to its family of material handling products, the Pallet Drop Zone (DZ) Safety Gate. This new product, equipped with a double-sided gate, offers maximum protection to workers accessing large pallet loads at elevated levels. As one side of the DZ gate is raised, the other closes. This feature ensures that the elevated ledge is protected at all times, safeguarding personnel and palletized materials from falls. In contrast to similar double-sided gate designs, the DZ gate utilizes more than one pivot point on the pivoting arms. This results in vertical articulating movement that minimizes overall footprint while maximizing the efficiency of vertical and horizontal storage space. The DZ gate can be customized on all three planes, making it one of the most flexible gates on the market. Specific features include:
A design that is balanced both vertically and horizontally for smooth operation.
Arm geometry that is uniquely designed for single or double pallets up to 72+ inches high. This level of design flexibility makes the DZ gate a preferred solution in racking systems and other environments where space optimization is key.
The ability to be installed directly onto rack structures, as a rack mounted installation, or by itself, as a freestanding unit bolted to the deck.
Compliance with OSHA and Cal-OSHA regulations.
www.wildeck.com; 262-549-4000