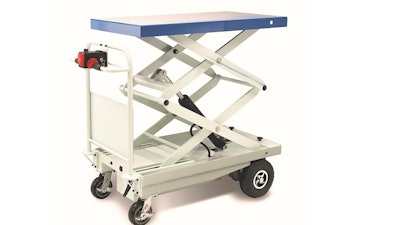 The ET-105 Powered Lift Table from Power Pusher (a division of Nu-Star, Inc., Shakopee, MN) provides a productive, safe work environment allowing easier maintenance, warehousing, shipping and supplies management. The ET-105 – a mobile, walk-behind table with powered scissor lift, drive and adjustable height – has an 800 lb. lift capacity and an 1,100-lb drive capacity serving multiple functions. It is a combination of a powered platform and scissor lift in one unit. The ET-105 can operate as a workstation or it can hold and raise equipment and parts, making a variety of tasks more manageable while increasing ergonomic benefits. Additional features include:
A platform that can be raised to any height with the hydraulic lift operated by electronic hand controls.
A fingertip release, allowing for smooth lowering at any weight within the table's

800 lb. lift

capacity descending slower as weight increases.
The max throttle adjuster, allowing the operator to adjust for slower or faster speed depending environment.
Two swivel casters equipped with brakes and two rigid polyurethane casters provide efficient movement over multiple surfaces.
A rust-resistant frame and platform made of stainless steel with a powder coat finish for lasting integrity.
www.powerpusher.com; 952-445-8295