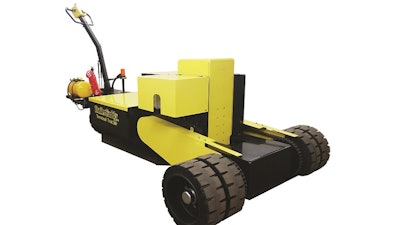 DJ Products (Little Falls, MN) has begun shipping its newest product, the TrailerCaddy Terminal Tractor, offering an innovative new way to move 48' and 53' OTR trailers around trailer yards and shipping docks. The operator is not required to have a commercial driver's license, so with a minimum of training, any employee is able to move trailers into and out of loading docks, dramatically improving the efficiency of trailer loading operations. The product was developed in collaboration with customers at transportation, shipping and manufacturing companies who are constantly challenged to improve the efficiency of their trailer loading and unloading operations. Purpose-built to move OTR trailers, the product was designed with features meant to improve both control and safety. These include:
A small footprint, which results in a dramatically reduced turning radius, allowing improved maneuverability in tight shipping yards.
Virtually maintenance free, the battery-powered TrailerCaddy can provide dramatic cost savings when compared to the licensing and maintenance costs commonly associated with diesel trucks.
www.trailercaddytt.com; 800-686-2651