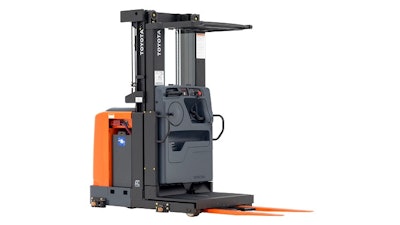 Toyota Forklifts (Columbus, IN) expanded its product line with the introduction of three new order pickers. The new products offer advances in efficiency technology with their optional Lift Logic Speed and Height Control System, enabling fast and easy picking. The line includes Toyota's first model in the class to offer a 36-volt option that reaches a maximum reach height of 390 inches. The three new models come equipped with AC Drive and two models come standard with AC Lift. The entry-level model is a 24-Volt that lifts up to 240 inches. The mid-level model is also a 24-volt and lifts up to 366 inches with faster lift speeds than competitive 24-Volt models. Finally, the premium-level model is a 36-volt and lifts up to 390 inches. Options across all models include:
Mini-masts.
Five-battery compartment sizes.
Pallet clamps with up to 6" openings.
UL-EE.
Battery interlock switches.
Lift Logic.
End of Aisle Slowdown.
Electronic Passkey.
The new product line is built for customers in general warehousing, distribution, general manufacturing, retail, food storage, cold storage and more.
www.toyotaforklift.com; 800-226-0009