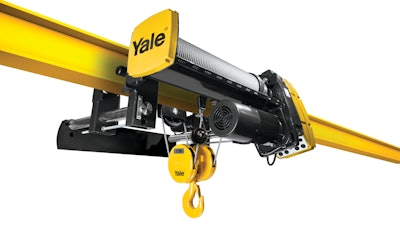 Columbus McKinnon Corporation (Getzville, NY) now offers expanded electrical and mechanical options and a wider range of lifting capacities for the Yale YK and Shaw-Box SK electric wire rope hoists. They are offered in a compact, easy-to-maintain design with industry-leading technology and safety features. Specifically:
An increased range of lifting capacities is available for the Yale YK and Shaw-Box SK monorail units from one to 30 tons in five frame sizes with 16 load capacity variants.
Additional options for further system customization include trolley travel limit switch, towing arm, patented track wheels and Magnetek variable frequency drives for trolley motion.
Safety features, including a block-operated limit switch, adjustable geared limit switch, motor temperature control and overload protection, are standard.
Popular Yale YK and Shaw-Box SK hoist configurations, as well as crane kits, are available for two-day shipping as part of the Flex-48 Quick Ship Program for the Company's U.S. partners. Newly available Yale YK and Shaw-Box SK crane kits consolidate all the essential crane components into a plug-and-play system for capacities up to 15 tons.
Yale YK and Shaw-Box SK are available on Compass, Columbus McKinnon's online product configurator. Compass provides the Company's U.S. partners with detailed technical data and documentation for a formal quotation package, simplifying the configuration and order process.
www.cmworks.com; 800-888-0985