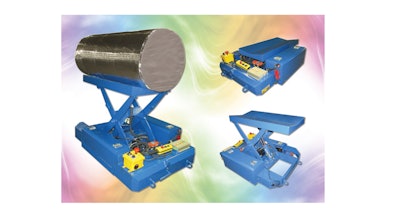 Air Technical Industries (ATI; Mentor, OH) announces the development of a unique and versatile material transport platform with built-in hydraulic lift up to 10,000 pounds capacity. The unit is completely self-sufficient and battery powered (24 or 48 volts) with a built in charger that charges itself automatically at a docking station. This newly developed feature allows the unit to be used 16 hours a day, increasing efficiency and saving time. Other benefits include:
Infinitely variable speed travel control from zero up to 3 mph.
An automated braking system with gradual acceleration and deceleration. No jolting and jerky starts or stops.
Wireless remote controls, available for convenience of the operator with up to 100 feet of range. Similar to a TV remote, the transmitter controls the travel as well as lifting and lowering functions.
A platform deck with a variety of options: plain flat surface, "V" shape top for transporting cylindrical rolls, and can be equipped with gravity or powered roller conveyor for loading and unloading. A powered rotating platform can change the orientation of the load, or an upender function can pick-up the load in a horizontal position and deliver it in vertical position or vice versa.
The unit travels on a subsurface mounted track or can travel on a surface mounted flat bar track attached to the floor. The wheels are steel double flanged to travel a straight line for dedicated application. It can also run on crane rail or inverted angle track if equipped with V-groove wheels.
Check out this video to see the product in action.

www.airtechnical.com; 440-951-5191