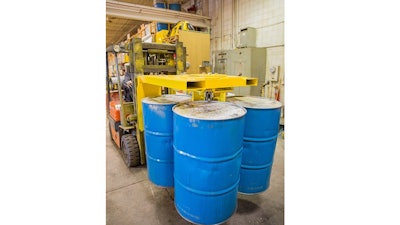 Liftomatic Material Handling, Inc. (Buffalo Grove, IL) now offers attachments to handle up to four drums at once. Liftomatic offers two forklift-mounted attachments suited for high-volume drum handling. The attachments do not require hydraulic or electrical connections. Both units are capable of handling 1, 2, 3 or 4 rimmed steel, poly and fiber drums with a total load capacity of 8,000 pounds. The LOM-4 units come in two configurations to handle up to 4 drums at once:
The model L4F can handle 1, 2, 3 or 4 drums and is useful for mixed loads, single stacking in trucks and trailers and for fill-line movement.
The model S4F handles 4 drums at a time only, for double stacking in trucks and trailers where overall height is limited.
Both models are available with spark-resistant and "EE" rated components. Each can handle a mixed group of 4 drums, steel, plastic or fiber at one time, as long as the drums heights are within 1.5 inches of each other. Crane and carriage-mount models are also available.
www.liftomatic.com; 847-325-2930