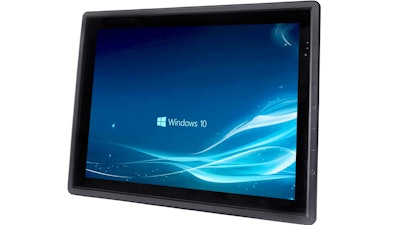 JLT Mobile Computers (Chandler, AZ) has launched the JLT6012 logistics computer, the first product of a new generation of rugged vehicle-mount computers with innovative platform design. Featuring the industry's most compact design, modern Windows, Android or Linux operating systems, and the user-friendly JLT PowerTouch PCT technology, the JLT6012 computer is designed to take user productivity to new levels. It provides familiarity to all generations of users without compromising the ruggedness required to run uninterrupted for many years of tough handling in the most challenging environments. Further features include:
Quick and easy login and identification with RFID tags.
High-brightness displays with adjustable auto-dimming for both indoor and outdoor usage.
Easily accessed programmable function buttons that can be used to accelerate the most common user operations.
A reduced total cost of ownership, by providing a wide-range 9-72 VDC isolated power supply with UPS functionality, making it suitable for installation in most types of vehicles, including electrical, gas and diesel-powered trucks, without expensive external hardware.
Minimal maintenance cost, with the resilient JLT PowerTouch display technology that addresses today's most common reason for computer breakage. Other wear-and-tear-prone components, such as batteries and boot media, can easily be serviced, and the computer software and firmware can be upgraded remotely – all to avoid taking the computer out of operation in the field.
The new JLT6012 computer complements the current line of rugged mobile computers from JLT, providing options for a wide range of use models in the logistics and heavy-duty industry segments.
www.jltmobile.com; 844-705-4200