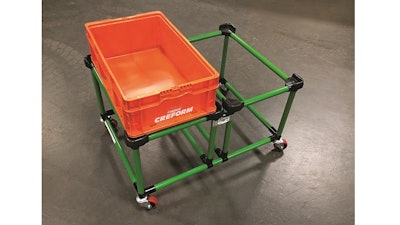 Creform Corporation (Greer, SC) has developed an economical and simple cart for a manufacturer of electronic fuel injection pumps. The cart is used to move the pumps from one work cell to another work cell for continued machining. Each tote on the cart holds approximately 25 lbs. Specifically:
The cart features both Creform metal and plastic joints. The metal joints were chosen for their flexibility and durability. They also repair easily and their parts are recyclable.
The cart also features Creform's unique JG-11A plastic joint which forms a strong corner at the top of the cart while providing a retaining lip to hold the containers securely in place. The plastic joints, with unique functional characteristics, provide support and retention for the totes. The plastic joints are "glued" to the Creform pipe with a special adhesive to ensure the permanence of the connection.
The cart shown has two container positions and can hold a single or stack of containers. It is designed around a box with a footprint of 24" x 15" making it ideal for tight spaces, and has a load capacity of 350 lb.
The cart can be designed to hold totes of various heights and can be designed to fit virtually any size tote or container and can be easily tailored for any application.
Ultimate height adjustments that can be designed for use by an associate make this cart ideal for ergonomics and comfortable picking positions. Further, having the container on the simple cart also makes it easy to move to the next workstation in the process without the assistance of a material handling person.
www.creform.com; 800-839-8823