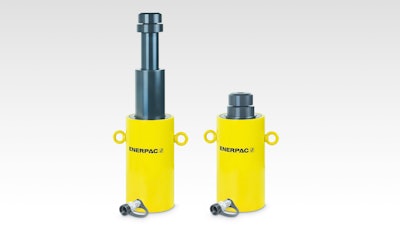 Enerpac
Enerpac (Menomonee Falls, WI) has introduced a new series of Multi-Stage Telescopic Hydraulic Cylinders designed for long cylinder strokes in confined spaces. The telescopic cylinders feature a multi-stage rod built from a series of nested steel tubes of progressively small diameter. The cylinder is particularly suited for extended lift heights when clearance is limited. Features include:
A nitrocarburized surface treatment that provides side load resistance and corrosion protection.
Double- or triple-wear bearing support lifting stages.
Tilting saddles with five degrees of maximum tilt.
Lifting eyes for safe handling and positioning.
Steel cylinder base for maximum strength.
Availability with two or three pistons, and 15- to 35-ton capacity.
The ability to lift loads up to 24 inches in a single movement.
For more information, visit www.enerpac.com.