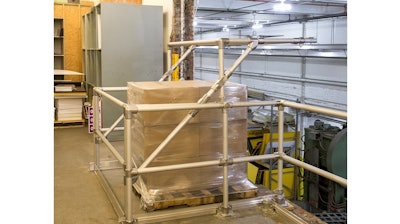 Kee Safety, Inc. (Buffalo, NY) introduces the new Kee Pallet Gate to provide protection at openings on mezzanines and other areas where pallet access is required to transfer materials or move goods between different working levels. It can be integrated into new or existing safety railing systems to create a safe and ergonomic elevated workspace, and balanced pivot action allows for single-operator use, according to the company. Other features include:
The system's ability to meet or exceed all relevant testing standards, providing an OSHA-compliant solution.
A construction comprised of Kee Klamp galvanized steel or Kee Lite anodized aluminum fittings and pipe railings, allowing for easy assembly and installation on-site without welding, drilling or threading. These durable, corrosion-resistant components are designed to maximize the life of the system.
Availability in four configurations to accommodate one-to-four pallets. Powder coating and toe boards are optional.
www.keesafety.com; 800-851-5181