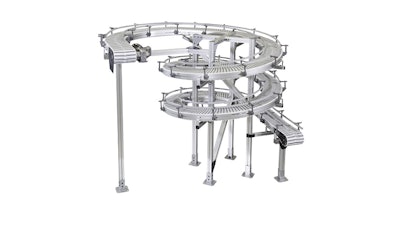 The new SmartFlex Helix Conveyor from Dorner (Hartland, WI) made its debut at PACK EXPO 2017, Las Vegas, NV. The new SmartFlex Helix Conveyor features a proprietary flexible chain manufactured by FlexMove, a Dorner Holding Company, located in Penang, Malaysia, and can operate in a footprint as small as a 10' x 10'. This conveyor is ideal for product handling applications where product needs to travel up or down in a confined space. Benefits include:
A compact design, allowing for five feet of elevation change in 10 feet (incline angle of up to 12°), giving users more freedom and flexibility in designing a material handling system with multiple layouts using a single conveyor.

The option of three belt widths: 85 mm, 180 mm, and 260 mm.
No lubrication required, providing a cleaner environment and reduced risk of contamination.
The new SmartFlex Helix was operating at PACK EXPO in a loop with a 3200 Series modular belt conveyor and a SmartFlex Wedge Elevator – a system where products are wedged securely between opposing conveyors to move them vertically or horizontally between production floors or different elevations. Wedge elevators are ideal for environments requiring compact footprints, transitions between travel orientations, de-pucking operations and creating passageways on the production floor. Rapid transfer rates make them ideal for continuous high capacity packaging line operations.
www.dornerconveyors.com; 800-397-8664