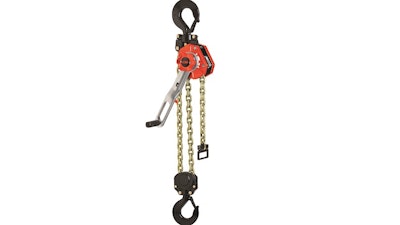 Columbus McKinnon Corporation (Getzville, NY) has expanded its CM Tornado 360-degree ratchet lever hoist product line to include new 3 and 6-ton capacity units. Features include:
An ergonomic design for increased safety, allowing workers to be more productive with significantly less effort compared to conventional ratchet lever tools.
A unique Sidewinder lever handle, featuring a 360-degree rotating lever and a fold-out revolving handle. These integrated components allow the operator to realize the full potential of a 360-degree rotation while working in a safe and ergonomic position.
Availability in 3/4, 1-1/2, 3 and 6 ton capacities with standard lifts up to 20 feet.
www.cmworks.com; 800-888-0985