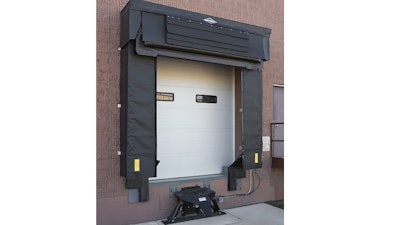 Rite-Hite (Milwaukee, WI) has introduced an extension of its Eclipse dock shelter system, the Eclipse NH. This new shelter is designed to provide the tightest seal possible at docks that serve liftgate trailers or require trailer doors to be opened inside the building (in a "drive-through" application) for maximum supply chain integrity and security. According to the company, this shelter, together with Rite-Hite's PitMaster sealing system, provides a tight, consistent seal on all four sides of the dock opening, while facilitating the drive-through trailer access. Energy-saving features include:
Sealing at the Sides. The Eclipse NH features an exclusive double-seal technology along the sides of the trailer, which produces a tighter, more consistent seal along trailer sides than ordinary shelters. Side curtains are built with high-strength Durathon fabric, which features a friction-resistant surface that resists wear.
Sealing at the Top. Along the top of the trailer, an exclusive weighted head curtain applies more than 100 pounds of pressure across the full width of the trailer top. This gravity-based system keeps the curtain in constant contact with the trailer during loading and unloading, providing a consistent seal despite trailer bounce. This weighted curtain automatically adjusts to all trailer heights, with no manual activation required, and also eliminates the need for an additional overhead rain-diversion device.
Sealing at the Corners. At the top corners, the Eclipse side curtains and weighted header work together to seal gaps that ordinary shelters can't address. Innovative fabric corner pockets connect the sides to the top, providing a dark, complete seal when trailers back into place.
Sealing at the Bottom. Below and around the dock leveler, Rite-Hite's exclusive PitMaster under-leveler sealing system provides a barrier against environmental infiltration on the exterior of the dock. Meanwhile, lip corner seals, filler pads and other components block gaps on the inside of the dock. Working together, the Eclipse NH shelter and PitMaster system provide the most advanced complete, four-sided seal at the loading dock.
www.ritehite.com; 800-456-0600