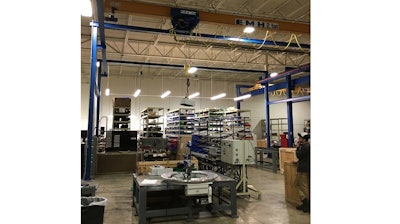 For 50 years, WEISS GmbH has been recognized for manufacturing high-quality index tables. Today, the company is the leading automation component manufacturer in Europe. Since August 2007, WEISS North America, a wholly owned subsidiary, has been doing much of the same thing for North America – including production of, index tables, palletized conveyors, linear motor driven pick and place units, cam and servo driven assembly chassis, ring index tables, and machine bases and tool plates -- all while positioning itself for constant and sustainable growth.
WEISS North America, located in Willoughby, OH, leased its 100,000 square foot facility in 2007 for a reason. While the company expected to grow, fulfilling its mission to service North America, it could not begin to guess just how quickly it would grow, or even how long the Willoughby facility would be able to accommodate its growing needs. Consequently, the company decided on a year-to-year lease. According to Kevin Talty, WEISS North America Operations Manager, "At the rate we've been growing, we'll be needing our own space sometime soon. And when that day comes, we'll have to take everything with us."
Nomadic Solutions
With that in mind, WEISS inventory now includes three Modular NOMAD Free Standing Workstation Cranes, which provided the company with a perfect fit and solution. When WEISS installed its first of three NOMAD Cranes, it needed seven tons of capacity, a 40-foot width, and an 80-foot runway. NOMAD is readily available in overall widths up to 50 feet and overall heights up to 25 feet, with capacities from 2 tons to 10 tons. Plus, and just as important to WEISS, a NOMAD Crane offers manufacturers a flexible solution when a traditional overhead crane installation is either difficult or impractical and, in the case of WEISS, when the company needs a change. Base plate design allows most NOMAD Systems to be installed without footers. Then, with easily bolted assembly, NOMAD Crane Systems can be easily dismantled, relocated and reassembled.
NOMAD Free Standing Cranes enable WEISS operators to easily move rotary indexing chassis components between workstations during assembly.
Customization was not an issue. EMH was able to easily customize the NOMAD installation to the WEISS floor plan and fit the company's exact needs. For instance, after the four-day installation was completed without workflow interruption, WEISS was able to finally analyze workstation results. Tight spacing on the plant floor combined with NOMAD flexibility necessitated that the system be positioned above shelves. Consequently, WEISS asked EMH to come back after the fact and add emergency hard-stops so that the crane would never go past a certain point. WEISS needed to be sure that crane operators would never run into shelves with any given load. NOMAD flexibility enabled the workstation crane to accommodate WEISS tight parameters from the start, and also enabled it to easily adapt to a new concern after the installation was complete.
NOMAD Crane solutions come standard with a hand-held operated radio controller and spare transmitter for easy operation.
Productivity Plus
WEISS North America focuses on index tables for factory automation. Initially manufactured in Germany, WEISS North America is responsible for all assembly and then customization for automotive customers, and others. Prior to NOMAD, WEISS used forklifts and jib crane "cherry pickers" to move index table chassis parts between workstations. Since its first NOMAD installation, WEISS has been able to dramatically increase workflow and productivity. According to Talty, "NOMAD has made things quicker, faster and easier. Quite simply, by using the NOMAD Crane instead of fork lifts, it does not take us anywhere near as much time to assemble each indexing table chassis."
WEISS rotary indexing table component.
NOMAD Cranes are available for one, two, three or four-cell manufacturing systems, with safety-enclosed-type runway electrification, brackets that are welded on runway support columns, and with the conductor bars installed in the field. Each system comes complete with mounting plates, bolts and bumpers and with top running end-truck travel speeds of 80 or 120 FPM (VFD). Wire rope hoists provide lifting speeds of 16/2.6 FPM with trolley speeds of 65 FPM (VFD). Bridge conductor cables are pre-wired to quick disconnect plugs.
At WEISS, the first NOMAD installation was about assembly, getting each index table ready to ship. The company's second NOMAD installation was for loading machines onto tool plates, and WEISS's most recent NOMAD crane installation was all about expanding the assembly area into a much larger production area. Talty explained, "Over the last 15 years, each crane has its own unique story and reason for being here. Plus, each installation story has fit nicely into our value-added manufacturing plans for growth."
Completed assembly ready for shipment.
Planned Growth
Talty added, "If we would have known 15 years ago what we know today, we probably would have installed a major overhead crane system instead. Having said that, it would have been a mistake, because it would not have allowed us the flexibility to change, modify and move things around as our company grew. Plus, we would have been stuck with whatever crane decision we made and installed at that point in time."
As WEISS North America continues its rapid growth in supporting and servicing North America, it will only be a matter of time before the company ends its lease and has to build its own plant. When that day comes, WEISS will be ready, and will have the flexibility to take its three modular NOMAD Free Standing cranes with them.
www.emhcranes.com; 330-220-8600