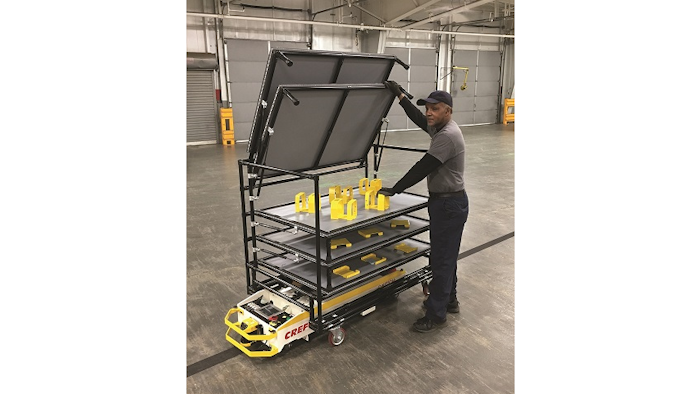 Creform Corporation (Greer, SC) has introduced a drawbridge cart with NSI AGV system, an ideal solution for manufacturers that need synchronized inventory presentation or for a kit of parts. The system features a cart designed to be towed by a Creform NSI AGV. It is built so that the AGV can tunnel underneath and features an A-HPL hitch that accepts the tow pin of the AGV unit. The AGV, via a sophisticated programmable control system, provides strategic help in moving carts carrying material and parts: It works as an automated tugger, traveling along a magnetic tape guidepath, slips under a stationary cart, extends a tow pin into the cart's frame and then conveys it to a designated area. The cart is picked up and dropped off automatically and once it is released, the associate in the area then can easily move cart into its optimal position of use. Additional features of the cart include:
Tilt-up drawbridge style shelves for enhanced access where four of the five levels tilt out of the way. This is ideal for a sequential operation that needs to empty one shelf before tilting it up out of the way to access the shelf below.

 

Minimized space between the levels, as there is no need to build in clearance for part removal on each level because the shelf above tilts up out of the way for easy access.

 

By tightening up the space between the levels, the user can fit more levels in the cart making better use of plant's floor space.
Simple flat surface shelves of wood, plastic or metal with the ability to be enhanced with foam dunnage or shadowboard for protection and organization.

The ability for shelves to be configured during over-the-road transport, so that when in the lowered position, parts are sandwiched to the shelf below, thus minimizing the chance of product damage and parts loss.
www.creform.com; 800-839-8823