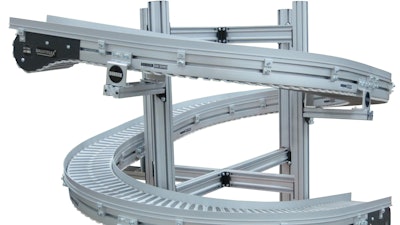 Dorner Manufacturing (Hartland, WI) announces its trio of SmartFlex curve conveyors: The SmartFlex Helical Curve, Spiral, and Alpine conveyors, designed to greatly expand the capabilities of Dorner's SmartFlex line by giving customers the ability to move product up or down and around equipment to accommodate tight spaces. Dorner's SmartFlex line is a flexible conveyor platform that reduces costs, saves time and offers simple configuration and acquisition options. Specifications of the SmartFlex Helical, Alpine and Spiral curve conveyors include:
An aluminum single-piece frame conveyor.
The ability to navigate very tight corners with wheel and plain bend options.
Multiple product transfer options for end and side transfers.
The capability for vertical incline with minimal floor space.
Availability in widths of 65 mm, 85 mm, 105 mm, 150 mm and 180 mm (depending on model).
Speeds up to 250 feet per minute.
Made to exact customer specifications and shipped within 5 days.
<<www.dornerconveyors.com; 800-397-8664>>