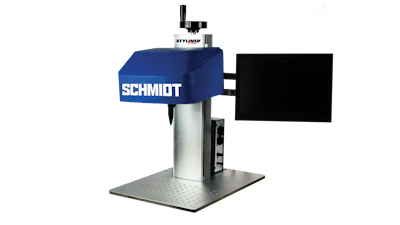 SCHMIDT (Niles, IL) introduces the Pulse, the newest pin marker in its Styliner series. Like SCHMIDT's Mark3 and Mark4, the Pulse is a durable and extremely precise pin marking machine that, when paired with its stylus and pin assemblies, is capable of many kinds of marks appropriate for a variety of applications in numerous industries. The Pulse features a sleek new design, along with the following benefits:
A touchscreen PC and compact controller mounted to the column and base respectively, drastically reducing its footprint. That means less clutter and more workspace.
The column has measurement marks along its side which can be used as an easy reference when setting up parts and adjusting the Styliner head. There are also over 100 mounting holes in the base for plenty of flexibility and options when installing mounting brackets to hold and stabilize parts.
These features, combined with SCHMIDT's Styliner design and StyleWrite software, simplify the pin marking experience, saving customers time and money.
www.gtschmidt.com/pin-marking-pulse; 800-323-1332