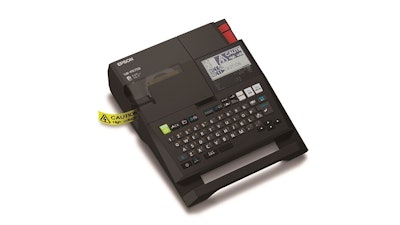 The new Epson LABELWORKS PX LW-PX750 from K-Sun (Somerset, WI) is a portable and PC-connectible label and barcode printer with exclusive features for creating custom and compliant labels up to 1" (24 mm) wide. Organize tool cribs, identify storage bins, make safety labels, tag assets and do more with the LW-PX750. With application-specific hot keys for barcoding, asset management, mixed-length and half-cut labels, the LW-PX750 offers extraordinary flexibility. Additional features include:
The unique Mixed-Length feature, which prints variable-length labels on a single, half-cut strip, saving both time and tape.
The Pick-and-Print feature, allowing users to queue a series of labels that the printer will print, cut and then hold until removed. Import images and Excel files and print on the go using the powerful, easy-to-use Label Editor Professional software.
The LABELWORKS PX innovative tape rollback technology, resulting in less lead margin waste as compared to other brands.
The innovative PeelGuard, a built-in automatic cutter that rounds label corners to extend the life and durability of a label.
A lifetime warranty.
The LW-PX750 uses LABELWORKS PX industrial supplies from 1/8" (4 mm) to 1" (24 mm) wide, including self-laminating wraps, heat shrink tubing, magnetic tape, strong adhesive, removable adhesive and more. Durable LABELWORKS PX supplies have more material per cartridge and are designed to simplify supply selection for professional and industrial visual identification throughout the facility or on the job site.
https://labelworks.epson.com/; 800-622-6312