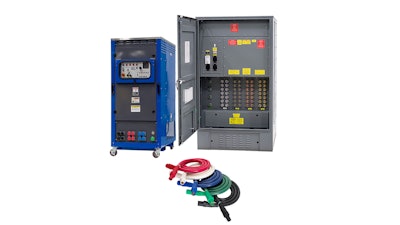 Trystar
Trystar (Faribault, MN) is responding to the growing interest businesses have in power resiliency by helping them design and specify a load bank, docking station and cabling package that is harmonized and tailored to their permanent or rental generator backup power system.
Trystar offers a complete portfolio of load bank configurations to accommodate various needs including:
Trailer-mounted
Stationary
Portable
Duct- and roof-mounted
Custom designs
Natural events and an aging and overtaxed grid are leaving businesses and critical facilities reliant on their own power generation and energy storage capabilities for extended periods. The result is increased demand for more resilient power systems and many different project types for consulting engineers to design including:
Permanent and temporary (rental) generator set installations for primary or emergency needs, as well as additional capacity

Transfer switch replacement
Entire generator plant upgrades
Redundant utility services
Generator docking stations (new builds and retrofits)
The Trystar docking stations can accommodate the installation of both permanent and temporary generators and load banks. Trystar also manufactures the associated switchgear and automatic (or manual) transfer switches.