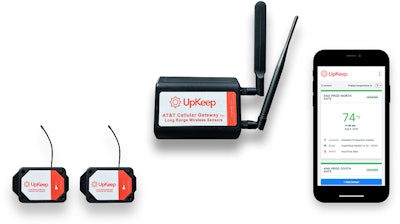 For over three years now, UpKeep (Los Angeles, CA) has invested time, effort, and energy into UpKeep Edge — the company's second product that allows maintenance, reliability and operations professionals to use data as the key to collaboration and success. UpKeep has recently announced that this transformative product was approved for a patent, issued as of Sept 20, 2022.
UpKeep Edge leverages secure wireless internet of things (IoT) sensors and cellular gateways to deliver real-time data about assets and operating environments. Maintenance, operations and reliability teams are better equipped with Edge to scale their ability to monitor the operating performance of critical equipment and facilities. UpKeep offers a competitive advantage by bringing sensor data to maintenance teams to help them monitor asset performance and get ahead of critical failures. Click here to learn more about Edge.
Edge has been in the works since the summer of 2019 but wasn't widely released until more recently.
www.upkeep.com, 323-880-0280