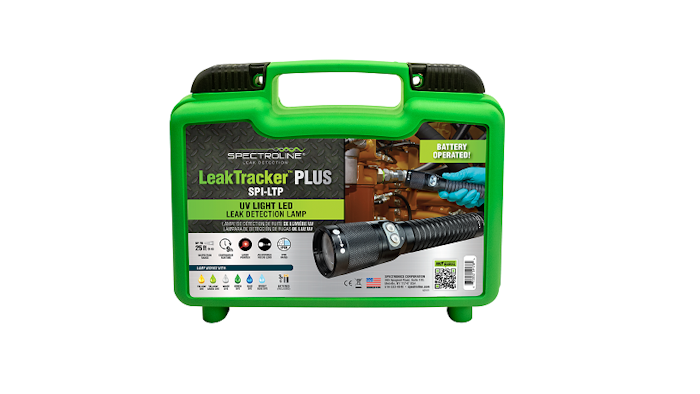 Spectronics Corporation (Melville, NY) announces the release of LEAKTRACKER PLUS – the next generation of UV LED Leak Detection Flashlight for its Industrial product line. The new LEAKTRACKER PLUS is a 365 nm UV LED high-intensity leak detection flashlight. Features include the following:
An adjustable focus making it a dynamic tool for close and long-distance range leaks. The narrow focus allows for a powerful beam of light to fluoresce the smallest of leaks, while a wide focus can be used for larger area and to reduce reflections.

A laser pointer for further visual aid in spotting hydraulic leaks with a continuous runtime of nine hours.

The LEAKTRACKER PLUS works with all Spectroline fluorescent dyes and is protected against water and dust with an IP 68 rating.
Pairing LEAKTRACKER PLUS with Spectroline ULTRA dye formulation provide technicians with optimal fluorescent dye response and contrast when scanning for hard-to-find and intermittent leaks. They can even search near moving parts due to its more compact and long-range design.
www.spectroline.com, 800-274-8888