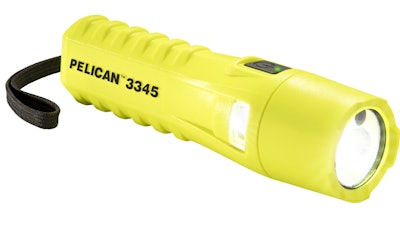 Pelican Products (Torrance, CA) offers their safety-certified 3345 LED flashlight – the company's first with a variable light sensor that automatically adjusts brightness to its surroundings. Additional features include:
Dual beam, spot and flood capabilities.

Up to 280 lumens with both beams, 117 lumens in flood mode and 219 lumens in spot mode.

Regulating power as it's needed allows the flashlight to stretch its' run time.
A full-time battery level indicator integrated into the switch.
IPX7 ingress protection, which allows it to be used in inclement weather and hazardous areas.
Class I, II and III, Division 1/IECEx ia safety certified.