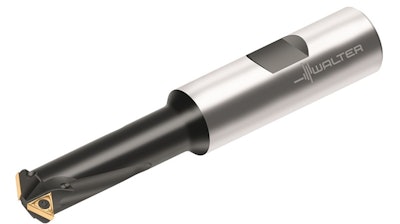 With the new versions of the T2711 and T2712 thread milling cutters, Walter (Greer, SC) is offering tools for producing small blind-hole and through-hole threads in dimensions of M16, M18 and UNC ¾.
These new cutters accept free-cutting indexable inserts with three cutting edges that are made from grade WSM37S or Tiger.tec Gold WSM37G. A key feature of these inserts is their outstanding process reliability. This, along with their exceptional performance and high tool life, is the result of their unique coating layer structure.
A patent-pending, highly textured MT-TiCN layer for the WSM37S and a TiAlN-Al2O3 coating for The WSM37G helps reduce flank face wear and increases toughness due to the multi-layered structure. For the WSM37G, this Al2O3 layer additionally improves chip breaking and makes it an easy cutting geometry, while the gold-colored top layer helps improve wear detection. These inserts for the T2711 and the T2712 are available in two geometries.
Walter developed the T2711 and T2712 thread mills specifically for applications where it's not worth it for end users to purchase expensive solid carbide threading tools, for example because their volumes are too low. Unlike solid carbide milling cutters, these tools do not need to be reconditioned, because the inserts are replaced instead.