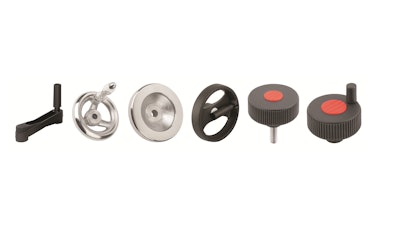 Fixtureworks
Fixtureworks (Fraser, MI) a manufacturer and supplier of clamps, fixturing accessories, machine tool components and rollers and bumpers, recently expanded its lineup of hand wheels and cranks.
The line of industrial hand wheels and cranks are designed to be applicable both on end products as well as the machines used in the manufacturing process. The products are available in different styles and material options. Some of the materials available include stainless steel and high density thermoplastic. The industrial handwheels and crank handles are available in various sizes and mounting styles.
Hand wheel features include:
Hand wheels with fixed handles, revolving handles or no handles.
Handwheels made of cast iron, aluminum, Duroplast plastic, stainless steel with chrome-plated and powder baked finishes.
Various spoke configurations, such as 2, 3 and 5 spoke or solid disc.
Availability in an 80 mm to 500 mm diameter.
All wheels come trimmed/turned and polished.
Both metric and inch sizes are available.
Crank features include:
Cranks are available in a straight or offset style.
Cranks come in cast iron and high-density thermoplastic, in either a revolving or folding handle style.
Cranks feature a blank, round or square hole.
Positioning control knobs are made of stainless steel and thermoplastic with/without a handle, stud or set screw.
The knob cranks are made from ductile cast iron, coated with anticorrosive oil.
In the high-density thermoplastic version, the bore can handle diameters 0.375 to 0.50 in.
In the metal versions, the cranks can handle M6 x 1.00 thread and 15-21 mm diameters.
Fixtureworks offers shaft locking clamps, heavy-duty knob locking pins, mechanical linear actuators, form holding clamps, quick change pneumatic clamping fasteners, quick action sliding locks, spring plunger clamps, handle and levers, knobs and grips, equipment handles, hinges and latches, leveling supports, industrial rubber bumpers, stops and wheels, fixture clamps, clamping locating systems, work positioning elements, vises and grippers.
For more information, visit https://www.fixtureworks.com/.