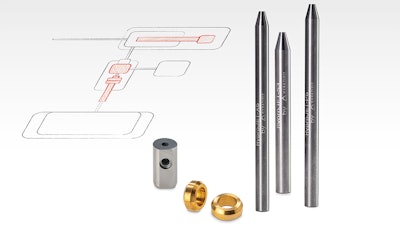 Waterjet cutting is recognized as a reliable alternative to conventional cutting processes. Extremely smooth cut edges without thermal stress, post-processing, and minimal kerfs are just a few of the advantages of the cutting process for a wide range of materials and applications. A key factor for efficient processes is the waterjet nozzles. With the new HyproJET portfolio, CERATIZIT (Warren, MI) sets new standards for quality and durability.
Waterjet cutting works as simply as it is effective: the cutting head directs a fine jet of water at high pressure of up to 6,000 bar, a jet diameter of 0.38 to 1.02 millimeters. In this stress-free cutting process, the material particles close to the surface are cut off without any heat being introduced into the material. This process is an optimal solution for temperature-sensitive and thick materials with complex geometries.
The HyproJET range was developed with three standard water jet nozzles to meet these needs: narrow hole tolerances, perfect cutting and radial run-out accuracy ensure precise working results. Specifically:
The HyproJET X6 is a powerhouse with improved flow of abrasive material and air in the nozzle and a special design for cutting even the most difficult materials.

For standard applications, CERATIZIT's range includes the HyproJET P6, which stands out in particular thanks to its optimal price-performance ratio.

For anyone looking for high-quality results at a low price, the affordable S3 standard water jet nozzle is the perfect choice.
All nozzles are suitable for modern cutting head systems and support automatic centring during assembly.