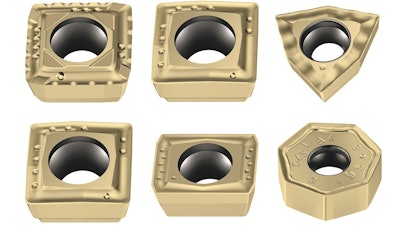 According to Walter (Waukesha, WI) the new Tiger·tec Gold PVD grade WSP45G pushes the boundaries of what a cutting tool material can be expected to do, both in terms of applications and with respect to the materials it can efficiently process. In addition to the compatibility, WSP45G inserts can be used with all standard milling cutters in the Walter lineup, including Xtra·tec XT, Walter BLAXX and M4000 milling cutters. Further the new Tiger·tec Gold PVD indexable inserts can also be used in Walter indexable insert drills such as the D4120 for ISO P steels, but also for difficult-to-cut materials from the ISO S and M material groups. Specifically:
The unique TiAlN-Al

2

O

3

multilayer coating system makes the WSP45G both hard and tough, and thus extremely resistant to abrasive wear and high temperatures, with controlled residual stresses and less flank wear, all boosting tool life.

A special mechanical post-treatment improves thermal crack resistance and protects the cutting edge from micro-spalling.

The light gold-colored topcoat of the multilayer system makes it easier to detect wear and thereby improves process reliability.

Unused cutting edges are reliably identified, making it possible to utilize the full potential of the indexable insert and further extending tool life.