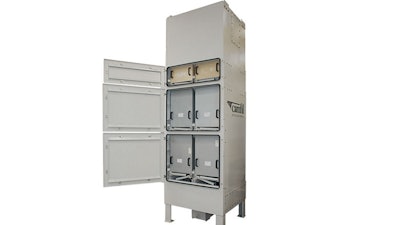 When metalworking fluids are used during machining processes, they generate airborne mists that can pose a health and safety risk to workers. To help facilities ensure a safe work environment and regulatory compliance, Camfil APC (Jonesboro, AR) offers the EM Expert coolant mist collector. The EM Expert is ideal for applications that use cooling lubricants such as turning, drilling, milling, roughing and grinding. This high-efficiency collector separates ultra-fine coolant mists and fumes and is available with an optional HEPA final filter stage to collect particulates less than 1 micron. Other features include:
A functional design that makes the EM Expert practically maintenance free.
Quick-acting clamps ensuring easy filter cartridge changes that require no tools. Filter cartridges are accessed via the service door(s) and a transport trolley is available for drip-free removal of the filter cartridges.
The EM Expert mist collector unit is delivered ready for plug-and-play without any additional assembly required during installation. Its modular design enables it to be customized to suit a facility's current needs and future expansion. It also comes with a no-leak guarantee.
www.camfilapc.com; 800-479-6801