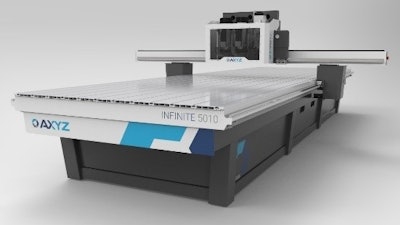 AXYZ CNC Routers (Burlington, Ontario) announces the new Infinite Router to its line-up of CNC machines. With process areas up to 128" (3251mm) wide and over 50ft long (15.24m), the Infinite builds on the legacy of the AXYZ Series Router to combine both modern design and engineering excellence. Built in North America using the latest technology, the router has been redesigned from the ground up, making it the most configurable CNC router solution in the market. Designed to serve as the ideal solution for one-off, small batch production as well as high volume applications, the Infinite Router includes:
A heavy-duty frame with a robust structure for high performance and high part-finish.
A new carriage design with easier access for service and a new dust extraction system which reduces clogging and allows for longer tables.
Optional production tools, including a 7- or 21-station automatic tool change system, twin or triple cutting heads, the latest AXYZ AVS Camera Registration System and a misting unit.
All these options are available on CNCShop.com, the one stop shop for all things CNC machine-related.
www.axyz.com; 800-361-3408