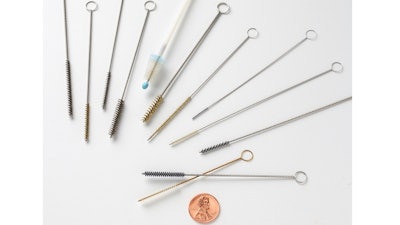 Small parts like these micro brushes from Mill-Rose (Mentor, OH) can play a big role in your next production. Mill-Rose is uniquely suited to manufacture brushes as tiny as .014 in diameter to clean, polish, debur and ream small holes and cavities using a full range of bristle materials, including stainless steel, brass and nylon.
Miniature abrasive tube brushes are also available for aggressive cleaning and deburring holes drilled in close-tolerance metallic and non-metallic parts. These brushes are flexible, designed to retain their shape better than wire-fill brushes, and will not degrade the diameter, straightness or surface finish of the holes. These silicate and aluminum-oxide brushes are designed for power use.
Bristle materials range in thickness from 0.0025" and uniform diameters are accurate to + .001". Loop handles make the micro brushes easy to use for hand application and brushes are also available without loop handles for power applications.
www.MillRose.com; 800-321-3533