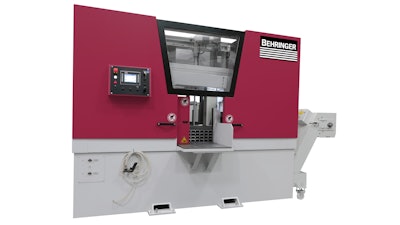 Behringer Saws, Inc. (Morgantown, PA) will be displaying an array of its new high performance automatic bandsawing machines, the HBE Dynamic series, at IMTS in September in Chicago, IL. The HBE Dynamic series was designed to be the everyday saw due to its affordability, versatility and efficiency. The compact automatic band saw has a multitude of features designed to improve performance and precision, while maximizing user convenience and safety. Features include:
Cutting capabilities from 10.2"-42", and blade sizes from 1.25" to 2.625".
A vibration damping grey cast iron construction, which is solid and durable.
A sensitive downfeed control system, precise guiding system in portal design, energy-efficient drive system, electrically driven chip brush synchronized with blade speed and easy operation by intuitive NC control system.
A servo-driven ball screw blade feeding system and pressure sensors. This automatically provides precise, constant downfeed control and adjustment to continually optimize the cutting process. The ball screw-driven material feed gripper eliminates backlash and ensures precise material positioning and repeatability.
A fully enclosed design, promoting safe operator use. It keeps chip and coolant spillage to a minimum, and reduces noise. The large doors provide easy access for cleaning and maintenance.
Visit us at IMTS booth #N-236844
www.behringersaws.com; 888-234-7464