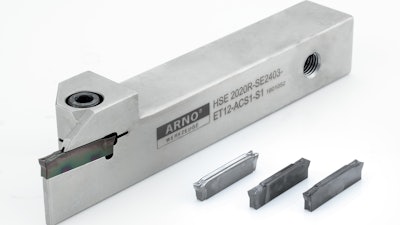 ARNO Werkzeuge USA (Harvard, IL) announces its SE grooving and part-off system, a cutting tool and insert system designed to optimize turning, grooving, parting-off and copy turning operations. The SE Monoblock Holder features double-ended inserts for high productivity machining operations. The "double V" insert seat design guarantees an accurate and secure location. In combination with a fixed stop it ensures precise insert repeatability, the SE groove and groove turning cutting tool system is an economical and efficient solution for radial grooving and parting-off applications. The series is available in a wide variety of tooling configurations and sizes. Additionally, the SE groove turn system offers machine shops many features and benefits which include:
Active insert clamping with fixed stop for accurate insert positioning.
Directly pressed inserts with dedicated geometries for cost-efficient and optimum solution for reliable groove production.
The ground version is an ideal choice for non-ferrous materials with sharp edge inserts and polished tops for better chip flow. Excellent for machining aluminums and plastics.
Geometries for cutting steel and stainless steel.
Strong cutting edge for maximum feed rates and cutting depths.
www.arnousa.com; 815-943-4426