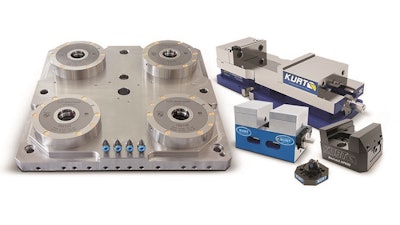 Kurt (Minneapolis, MN) offers a lineup of new CrossOver Vises, a Pneumatic Zero-Point Clamping System and nineteen 5 axis machining solutions. The products feature the following:
The Kurt DX4 CrossOver vise is designed for precision requirements of CNC production to toolroom applications. DX4 is interchangeable with Kurt's popular D40 vise with the same bed height and distance from keyway to stationary jaw. It combines multiple design features including the AngLock and Pull-Type features combined with a new 2-bolt stationary jaw creating an ultra-unique strategy for a better vise.
The Kurt Pneumatic Zero-Point Clamping System operates on shop air available in most machine shops. The Zero-point system uses a form-fitting clamping design with self-locking clamp segments and tapered plug design which creates a powerful, 3-surface contact and lock-down force pulling the plugs all the way into the cylinders. The system design prevents vibration and tilting with the lock-down force not found in other zero point systems.
A wide variety of 5 Axis specific workholding, from dovetail designs, self-centering models, riser bases and even special pallets. Many models have choice of Serrated jaws, Carvable Jaws or Dovetail jaws. According to Kurt, the all new lineup of MaxLock HP vises has the best anti-lift and AngLock design available in the industry.
See these products on display at IMTS 2018, booth #432433.
www.kurtworkholding.com; 763-574-8309