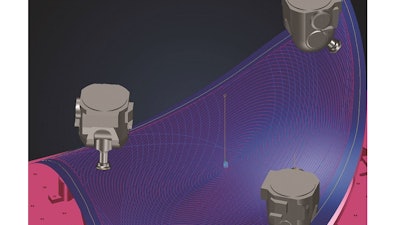 Tebis Version 4.0 CAD/CAM software, V4.0 R6 from Tebis America (Troy, MI) provides new and optimized functions in 5-axis simultaneous milling for users to better utilize the potential of its modern high-performance machines. Some of the enhancements of the user-friendly R6 software include:
New, highly efficient adaptive and contour parallel roughing strategies.
Simple machining of connected milling areas in isoparametric surface layout.
Integrated tilt direction preview when milling between vectors.
Also, the company's new Manufacturing Execution System (MES) for single part manufacturing, ProLeiS, offers comprehensive data management, manufacturing planning and manufacturing control functions that enable effective control of all individual parts for dies and injection molds—from quotation to the finished product.
Tebis will demonstrate the latest release of its Version 4.0 CAD/CAM software and ProLeiS MES System at booth #133230 during IMTS 2018.
www.tebis.com; 248-524-0430