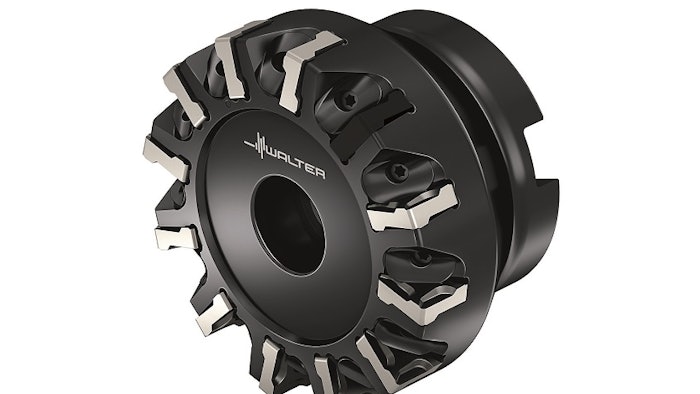 Walter (Waukesha, WI) has introduced the M2136, a multi-tooth close pitch finishing cutter that features a high degree of process reliability coupled with cost effectiveness, particularly with cast iron, thanks in part to its eight cutting edges per insert. These stable, negative inserts promote not only stability but also ease of handling as well as leading to high levels of surface quality during the finishing process. The inserts for the M2136 are available in two variants, the B67 and the D67. The B67, known as the 'universal' one, is primarily aimed at medium and difficult machining conditions and produces maximum cutting-edge stability and high feed rates under these conditions. The D67, known as the' easy cutting' one, is ideal for universal applications and is well suited for medium machining conditions. Features include:
Availability in diameters from 2-6 in. (50 to 160 mm).
Walter's Tiger·tec Silver coating in three CVD coated grades (WAK15, WKP25S and WKP35S). There is also one PVD coated grade(WKK25S).
Torx Plus screws to promote good handling and high torque.
The new M2136 supplants the older close pitch finishing cutter, the F4049.
www.walter-tools.com/us; 800-945-5554