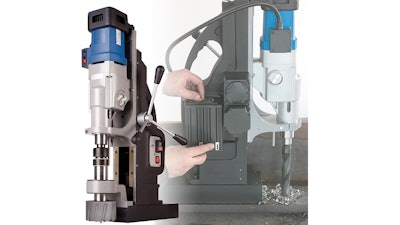 According to CS Unitec (Norwalk, CT), its MAB 1300 V is the strongest portable magnetic drill on the market with adjustable automatic feed and reverse. The drill features an automatic feed mechanism with power retraction, making it suitable for production applications, and the power feed controls drill pressure and feed rate to maintain optimal RPM and maximize cutter life. Features include:
The powerful 20 Amp/110 Volt double-insulated motor of the MAB 1300 V, designed for continuous use in heavy-duty drilling applications.
The versatility of the 4-speed oilbath gearbox (30-80, 50-120, 130-350 & 210-550 RPM), which allows drilling of holes from 7/16" up to 5-1/8" diameter with annular cutters in structural steel and other metals.
Capabilities such as large-hole tapping up to 1-5/8" diameter; twist drilling up to 1-3/4"; countersinking up to 3"; and reaming up to 2". The MAB 1300 V has a 1-1/4" arbor with an adapter for 3/4". The unit includes an integrated automatic cooling/lubrication system.
The high-density, three-coil magnet with a holding strength of up to 23,600 pounds, providing the pulling power required for heavy-duty drilling.
Integrated sensors including CoolMag for magnet overheating protection, SafeMag for visual magnet adhesion indication and an Electronic Safety Shutoff Sensor to automatically shut down the drill motor if the magnet loses contact with the material.
The drill weighs 112 lbs. and is equipped with an eye-hook for lifting with a hoist.
www.csunitec.com; 888-226-7924