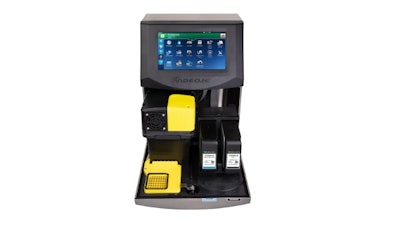 Videojet Technologies
Videojet Technologies (Chicago, IL) announced the global launch of a new continuous inkjet (CIJ) printer, the Videojet 1580 C. As the industry's first dedicated soft-pigmented printer, the 1580 C exclusively uses soft-pigmented contrast inks to print high-quality codes with superior uptime.
The 1580 C is simple to operate and maintain, featuring the same cleaning cycles and preventive maintenance requirements as dye-based printers.

1580 C features:
Fluid cartridge design to reduce the pigment blockages and printhead clogs
New printhead design for increased uptime by allowing more time between cleanings
Engineered to print codes with consistent quality, contrast and strong durability
Conical mixer tank that helps improve ink recirculation
New ink (see below) ideal for modern dark packaging designs
Videojet Dynamic Calibration that automatically maintains print quality for optimum uptime
The ability to be run at more moderate speeds
The Videojet SIMPLiCITY user interface delivers code assurance through the use of error-proofing rules that define editable fields, permissible data types and date range restrictions to reduce printer interactions and the chance for user errors.
The Videojet OPTIMiZE tool helps manage ink and make-up usage, calculate future fluids forecasts and determine power wastage.
The printer's webserver capability allows operators to access printers through supported web browsers on host computers, with up to five webserver sessions allowed for each printer.
Cellular connectivity gives the printer direct access to the Videojet cloud without involvement from a company's IT resources.
Specifically formulated for the 1580 C, Videojet soft-pigmented inks provide fast dry times and high resistance to transfer, light, heat, and solvents. Three new yellow inks and one black ink, each with unique performance characteristics, are launching with the 1580 C printer.