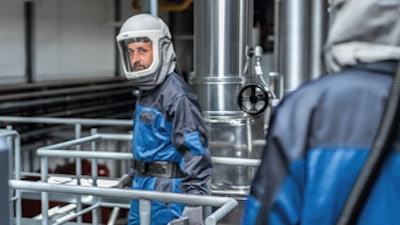 Draeger
Dräger (Houston, TX) announced its X-plore 8500 powered air-purifying respirator (PAPR).
Robust battery life and connection system offer cost savings.
Advanced technology automates calibration of flow check to save time.
Three-alarm system and guided air provide exceptional safety and comfort.
Wide portfolio of headpieces to customize the system for various applications.
The X-plore 8500 powered air-purifying respirator (PAPR) with new headpieces offers a robust system with expanded technical capabilities that increase productivity and total cost of ownership to filter hazardous substances from the ambient air.
Designed to support various components and accessories, the new system can be customized to meet diverse application requirements while providing exceptional safety and comfort.
The X-plore 8500 PAPR is designed for daily use in tough environments. The blower units have been tested to last 10,000 hours in laboratory conditions.
Features include:
A heavy-duty design with rubber protectors and high ingress protection (IP 65) against dust and water from any direction
Compatibility with various Dräger X-plore 8000 filters.
Battery that can run 16 to 20 hours on a single charge.
Multiple pogo pins which maintain a robust connection.
The intelligent electronics of the Dräger X-plore 8500 system appropriately:
Adjust airflow
Prevent use without the filter
Display the saturation of the particle filter
The filter system features a plug-and-go exchange and is equipped with optical, acoustic and vibrating alarms. The automatic system calibration and flow check eliminate the need to manually calibrate the unit or conduct a flow check prior to using.
The Dräger X-plore 8500 is currently the only PAPR system on the market that guides airflow from the back of the headpiece with a tight and stable connection between the belt and the unit to secure optimal weight distribution.
The simple and efficient charging system allows rapid charging in less than four hours. The unit is designed for fast and easy disassembly for cleaning. Ideal for long periods of use without sacrificing comfort or safety, the hood is approved as TH3 and extremely lightweight.