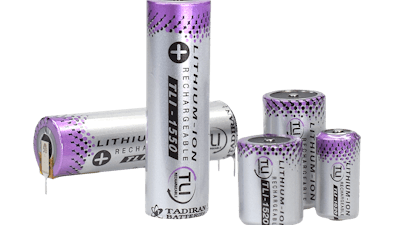 Tadiran Batteries
Tadiran Batteries (Lake Success, NY) now offers an expanded line of TLI Series industrial grade long-life rechargeable lithium-ion (Li-ion) cells specifically designed for energy harvesting applications.
Standard rechargeable lithium-ion cells have major drawbacks, including short operating life (maximum five years), low maximum cycle life (500 full cycles), high annual self-discharge (up to 60% per year), and a limited temperature range (0°C to 60°C) with no ability to be recharged at extreme temperatures.
By contrast, Tadiran TLI Series Li-ion batteries:
Work for up to 20 years and 5,000 full recharge cycles while generating high pulses to power two-way wireless communications.
The ability to operate and be recharged at temperatures ranging from -40°C to 85°C, with storage up to 90°C.
A glass-to-metal seal instead of crimped seals that are prone to leakage.
TLI Series cells can be recharged using DC power or teamed with PV solar systems and other energy harvesting devices to deliver reliable long-term power. They are available in standard AA and AAA configurations, and custom battery packs.
For more information, call 1-800-537-1368 or visit www.tadiranbat.com.