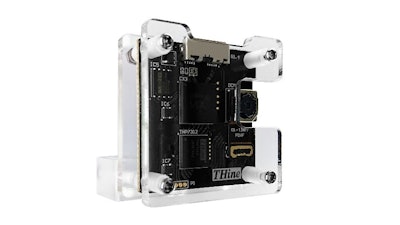 THine Solutions, Inc.
THine Solutions, Inc. (Santa Clara, CA) introduced their new THEIA-CAM family of camera Reference Design Kits. The first Kit in the family is the THSCU101, a 13-megapixel Phase-Detection Auto-Focus (PDAF) USB Video Class (UVC) camera Reference Design Kit.
The THSCU101 Kit provides users with optimized ISP and USB control firmware, reference circuit schematics and scalability for high image quality in production. As a result, the THSCU101 accelerates customers' time-to-market without expensive initial costs for developing embedded camera systems.
Further customization of the Kit performance is easily achievable using THine's GUI based Software development tools.
In addition to delivering high-resolution performance such as full HD and 4K Ultra HD, it adds PDAF technology that provides the auto-focus functionality preferred for live video streaming applications.
The Kit's single 35 mm x 36 mm (1.38 inches x 1.42 inches) board allows flexible integration. The ISP firmware compensates for CMOS Camera Module variations to achieve unit-to-unit image quality in production.
THine's THP7312 ISP supports high-resolution performance of up to 16 megapixels with throughput, low latency and low power consumption. The Cypress' CX3 adds SuperSpeed USB connectivity to any image sensor that is compliant with the MIPI Camera Serial Interface 2 (CSI-2) standard.
The Kit enables plug-and-play operation, and it includes firmware optimized for all USB camera functions.
It includes a camera board pre-installed in a protective clear case along with a USB cable. To view video streaming through the THSCU101, the user connects the USB cable to a PC, launches a PC Camera application and selects "change camera."
THSCU101 features include:
High resolution including but not limited to 13Mega Pixel, 4K2K, 1080p.
Phase-Detection Auto-Focus (PDAF)
Well-Optimized Image Quality along with Auto Focus, Auto White Balance and Auto Exposure
USB Video Class Control and extensions
Scalability for high volume production
1.4 inch x 1.4 inch small Printed Circuit Board