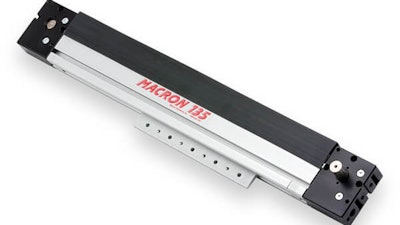 Isotech, Inc.
Isotech, Inc. (Hatfield, PA) announced its MSA series of belt driven linear actuators.
Isotech belt drives and actuators are available in three configurations:
Standard belt driven linear actuators
Plug-and-play belt driven linear actuators
Custom belt driven linear actuators
Features include:
Load Capacity u

p to 10,000 lbs.

Travel up to 152.4 meters (500 ft.)
Speed up to 15,240 mm/sec.
Linear accuracy: +/- .001″ / ft.
Positional repeatability: +/- .001″
Construction: aluminum and steel
Standard and custom configurations
The configurations allow engineers to select standard models for off-the-shelf availability, plug-and-play models for ready out-of-the-box automation and customer built models that allow for a wide range of configurations.
Standard actuators are available in stock travel lengths from 184 mm to 2242 mm and offer users a number of commonly configured options. Off-the-shelf availability allows for fast delivery while still providing industrial quality for a range of linear motion and automation applications.
Plug-and-play actuators and belt drives provide users with ready out-of-the box automation functionality. Each unit comes complete with actuator/belt drive, a UL approved electric motor and PLC device. These models are a good fit for educational and university robotics, or laboratory and research applications.
Custom actuators and belt drives deliver the same features as standard models. However, these models allow users to specify custom specifications including, but not limited to, cart design, belt options, extrusion size, length and finish and any special requirements for gearboxes and motors. The modular design of Isotech belt driven actuators allows for customization to meet most specifications without ordering a totally custom item.