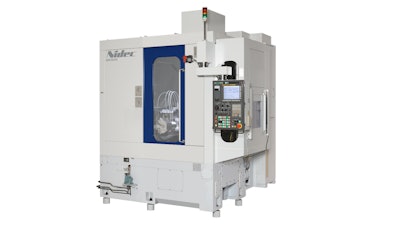 Nidec
Supply chain issues are driving more companies to bring manufacturing back in-house. Parallel to this trend in automotive manufacturing is the rise of electric vehicles and increasing automation.
In response to industry demand, Nidec Machine Tool (Booth 237036) is debuting the new GE15HS gear hobbing machine at IMTS 2022. Emphasizing high speed, precision and efficiency, the new machine produces gears for electric and hybrid cars, as well as for robotic and automation applications.
The GE15HS model is designed for gears with a maximum diameter of 150 mm, widely used in automobiles and motorcycles. The high-speed, high-torque direct-drive motor for the main cutting spindle provides a maximum spindle speed of 6,000 min - three times faster than previous models.
The high efficiency spindle holding the workpiece uses a special table that provides high rigidity and high-speed rotation to handle the necessary thrust load for high efficiency machining. Cutting gears with Nidec super-hard cutting tools yields a surface roughness of less than Ra0.4; on par with gear grinding.
A larger machine, the GE25HS, is also available.
Used in combination with Nidec Machine Tool's new materials and coatings for cutting tools, the GE15HS model provides stable mass production with a maximum cutting speed of 1,500m/min.
More than 2,800 Nidec GE Series hobbing machines have been delivered and installed since the product launch in 2004.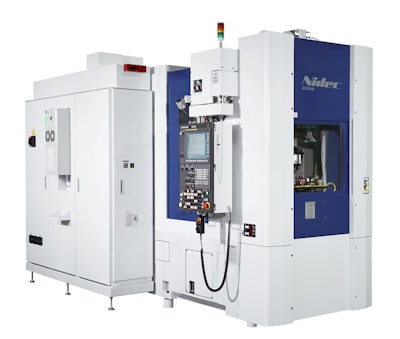 The Nidec booth will also feature the ZI20A-G Generating Internal Gear Grinder. Hard finishing of internal ring gears in mass production is the final frontier for automotive and truck transmission applications. For quiet, smoothly meshing internal ring gears, the ZI20A-G utilizes patented technology for threaded wheel grinding. This breakthrough process delivers fast and very cost-effective production of internal ring gears for planetary gearsets.