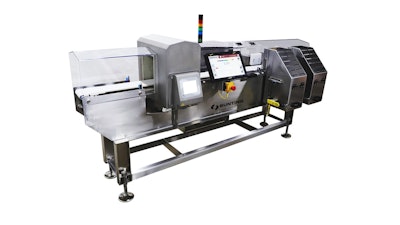 Bunting
Bunting (Newton, KS) announced the Bunting Metal Detector Checkweigher Combo, a fully integrated metal detector and weighing unit.
Using Electro Magnetic Force Restoration technology (EMFR), Bunting's Metal Detector Checkweigher Combo allows for higher repeatability and higher part rates.
Having one common interface for the operator makes the Bunting Metal Detector Checkweigher Combo user friendly and easy to operate.
In the process:
The package is first inspected for metal as it moves along a conveyor.
If traces of metal are detected, the package is automatically rejected without slowing down the line.
As pure packages continue along the conveyor, they are then checked for accurate weight.
If it is either over or under the prescribed weight, then it is rejected into a different bin.
Specifications:
Fully integrated metal detector and weigh cell with single point operation
15.6" touch screen
Rates up to 250 PPM up to +/- .1 gram repeatability
3 belt widths available: 150mm, 250mm, & 350mm
07 CI coil for optimum performance
IP 65 overall - IP 69K option available
Fully password protected