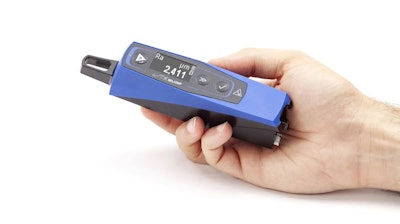 FLEXBAR
FLEXBAR (Islandia, NY) announced the new LiteSurf system which offers a quick and easy way to transmit surface roughness measurements.
The included Roughness Studio Basic APP allows information to be stored and shared with the rest of the world.
Features include:
Integrated Bluetooth and USB connection
Measures zones horizontally, vertically, up/down or sideways
Connects to laptops or tablets via the Roughness Studio Base app
Performs a full charge in 50 minutes, guaranteeing 10 hours of work
Through use of the 90 degree laterally rotatable preloaded probe, each area of the piece is measurable. A range of Interchangeable Accessory Probes are also available for special measurement applications.
The body of the LiteSurf is machined from a solid block of a light alloy and combines an ABS plastic shell that guarantees high rigidity with high impact resistance. The device's integrated refill management system guarantees at least 300 measurements within a 50 minute period.