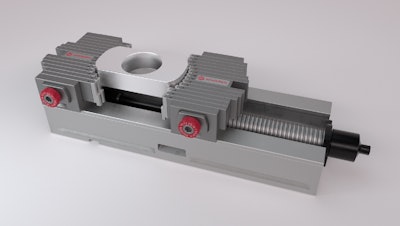 Norgren
Norgren (Saline, MI) will make two key announcements at the 2021 Precision Machining Technology Show (PMTS 2021), taking place from August 10 through August 12 at the Huntington Convention Center in Cleveland, Ohio. One will be to officially launch Norgren's Workholding business, and the other will be to preview the Adaptix Soft Jaw, the first product in the new portfolio.
The Adaptix Soft Jaw uses adjustable fingers and interchangeable tips to grip a wide variety of parts or workpieces during the computer numerical control (CNC) machining process. It was specially engineered to be a one-size-fits-all alternative to standard, single-application aluminum soft jaws.
"Single-application soft jaws require a significant amount of time, skill and raw material to construct, even before a single part is milled," Senior Director of Growth Initiatives Tom Wood said. "We saw an opportunity to solve several machining problems with just one tool, and so we designed the Adaptix Soft Jaw to grip nearly any part with comparable repeatability and clamping force as single-application soft jaws."
The Adaptix Soft Jaw's adjustable fingers and interchangeable tips are made out of a variety of different materials to match the milling needs of a particular part. The fingers easily mold into place to conform to the shape of the target part and then are locked in place. This configuration process takes minutes on average with traditional soft jaws. The soft jaw fits directly onto a vise and is currently compatible with Kurt and Schunk brand vises with other vise compatibility planned in the near future.